Karur Thedal FM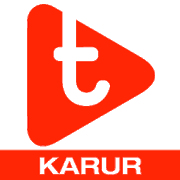 Rating:
/5 - votes
Language: tamil.
Genre: indian music, news.
Slogan: ஒவ்வொரு திசையிலும் இருக்கும்... இதயத்தை பசைபோட்டு இழுக்கும்... இது நம்ம 'கரூர் தேடல் FM' !
Karur Thedal FM is an online radio station from Karur (India). Listen to indian music and news content in quality 128 Kbps in free live streaming.
Bitrate: 128 Kbps
Country: India
State: Tamil Nadu
City: Karur
Phone number:

+91 96888 81388

Official website:

http://karurthedal.com