Radio Popcorn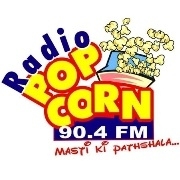 Audio stream for this station is not available in internet
Rating:
/5 - votes
First air date: 2008
Frequency: 90.4 FM
Country: India
State: Madhya Pradesh
Сity: Bhopal
Address: Radio Popcorn, Bhabha Campus, NH-12 Hoshangabad Road, Bhopal – 462026
Official website: http://www.visionbharat.com/popcorn/index.html
Email: popcorn@visionbharat.com
Phone number: +91-9893448220
Language: hindi.
Slogan
RJ TRAINING
Main RJs
RJ Pragya
RJ Swapnil
RJ Naini
RJ Sakshi
RJ Mansi
Cities of broadcasting
Listen to Radio Popcorn online in good quality. Broadcasting was opened in Bhopal (India) in 2008. At this station, for you, plays the best community, pop content in free live streaming.