Sarthak FM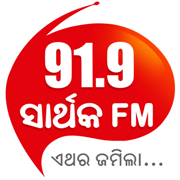 Rating:
/5 - votes
Language: Odia.
Genre: indian music, classic, old songs.
Slogan: The 1st Odia FM playing only odia songs
Sarthak FM is an online radio station from Bhubaneswar (India). Broadcasting was opened in 29-4-2017(Akhyaya Trutiya) . Listen to indian music and old songs content in good quality in free live streaming.
Cities of broadcasting
The official YouTube channel
First air date: 29-4-2017(Akhyaya Trutiya)
Frequency: 91.9 FM
Country: India
State: Odisha Orissa
City: Bhubaneswar
Address:

PLOT NO-C/1123,CDA,SECTOR-06,BIDANASI CUTTACK,ODISHA,PIN -753014

Email:

adsale919@sarthakmusic.com

Phone number:

9437966552

Official website:

http://sarthakfm.com/