All India Radio Air Urdu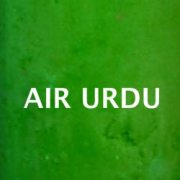 Language: Urdu.
Genre: classic, indian music.
All India Radio Air Urdu is an internet radio channel broadcasting in Urdu. The station daily attracts listeners by broadcasting folk music in their native language. Also, there are movie soundtracks for movie lovers. A lot of entertainment programs about the traditions of the people are daily on the air to your attention. Stay with us!
Bitrate: 49 Kbps
Country: India, Delhi, Delhi
Frequencies
Air Urdu broadcasts in the following cities on FM or AM: