Radio Aamar FM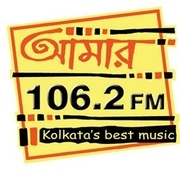 First air date: 2/03/2003
Bitrate: 192 Kbps
Frequency: 106.2 FM
Country: India
State: West Bengal
Сity: Kolkata
Address: 129 A, S P Mukherjee Road 6th Floor , Kolkata – 700026
Official website: http://www.aamar106fm.com
Email: aamar106.2fm@gmail.com
Phone number: (033) 2465 7706
Language: bengali.
Slogan
Kolkata's best music!
Main Programs
2PM to 7PM Aamar Ghorey Aar Bairey
7PM to 10PM Hoyto Tomari Jonno
10M to Midnight Ei Raat Tomar Aamar
Midnight to 5AM Back to Back
Show Day(s): Sunday
7AM to 11AM Aamar Robberer Sawkal
11AM to 1PM Kichu Katha Kichu Gaan
1PM to 2PM Robi Barer Robi
2PM to 5PM Just Relax
5PM to 7PM Sunday Adda
Main RJs
RJ Amrita
RJ Saubhik
RJ Biswajit
RJ Tanuka
RJ Pritha
RJ Labannya
Cities of broadcasting
Listen to Radio Aamar FM online in quality 192 Kbps. Broadcasting was opened in Kolkata (India) in 2/03/2003. At this station, for you, plays the best bollywood, pop, folk content in free live streaming.