AP9FM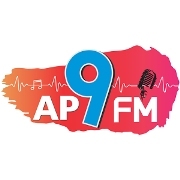 Genre: pop, dance, trance, indian music.
Bitrate: 64 Kbps
Country: India
State: Andhra Pradesh
City: Guntur
Address: 1st Lane Koritepadu, Vinayak Nagar, Guntur, Andhra Pradesh 522007
Official website: http://ap9fm.com/
Phone number: 9640-415-444
Language: telugu.
AP9FM is an online station from Guntur (India). Listen to indian music and trance content in quality 64 Kbps in free live streaming.