Apna Radio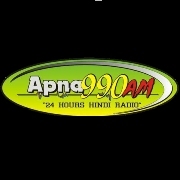 First air date: 31/03/2003
Bitrate: 96 Kbps
Frequency: 990 AM
Country: New Zealand's
Сity: Auckland
Official website: https://www.apna990.com
Phone number: 09 836 2762
Language: hindi.
Listen to Apna Radio online in quality 96 Kbps. Broadcasting was opened in Auckland (New Zealand's) in 31/03/2003. At this station, for you, plays the best news, bollywood, pop content in free live streaming.