CINA RADIO 1650 AM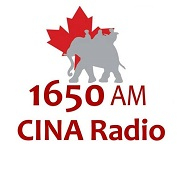 Language: Multilingual, Hindi, Urdu, Punjabi, Gujarati, Bengali.
Genre: Bollywood, old songs, news, talk.
CINA RADIO 1650 AM is an commercial online station from Toronto (Canada) licensed for Mississauga. It was owned by Neeti Prakash Ray, broadcasts on frequency 88.9. Listen on the air international news as well as local traffic and weather. This radio focus its classic and modern Bollywood hits, music, information and entertainment.
First air date: December 2008
Frequency: 88.9 FM
Country: Canada, Ontario, Toronto