91.1 FM Radio City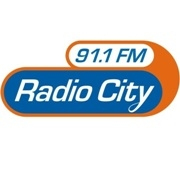 First air date: 2001
Bitrate: 96 Kbps
Frequency: 91.1 FM
Country: India
State: Maharashtra
City: Mumbai
Address: 5th Floor, RNA Corporate Park, Off western Express Highway, Kalanagar, Bandra (E), Mumbai - 400 051
Official website: http://www.radiocity.in
Phone number: 022 - 66969100
Language: hindi.
The official YouTube channel of the radio
Listen to 91.1 FM Radio City online in quality 96 Kbps. Broadcasting was opened in Mumbai (India) in 2001. From May 2008 music portal - PlanetRadiocity.com now radiocity.in offers entertainment related news, indian songs and vidios. On live streaming of this station, for you, plays the best pop content.