Radio City Fun Ka antenna
Best of Bollywoods!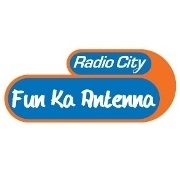 Audio stream for this station is not available in internet
Language: Hindi.
Radio City Fun Ka Antenna – this is an online station with interesting podcasts! From the programsб you will learn about the news of Bollywood, the life of pop stars and much more. Listen to our exclusive podcasts of Fundoo Duniya Fultoo Facts by RJ Nikki who fuses facts with films over three hours of fun. Live-streaming melodic songs about love, all day! Stay with us!
First air date: 2013
Bitrate: 96 Kbps
Frequency: 98.3 FM
Country: India, Maharashtra, Mumbai
Main Programs
FunDoo Duniya - FulToo Facts
Main RJs
RJ Nikki