FM 101 Faisalabad
Tune in to the one above
Radio Pakistan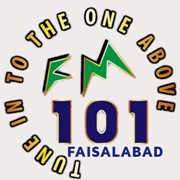 Language: Urdu, English, Punjabi.
Genre: news, indian music, pop.
FM 101 Faisalabad is a radio station owned by Pakistan Broadcasting Corporation and is a part of biggest network of Pakistan. Broadcasting was opened in 1 October 1998. Listen to indian music and news content in good quality in free live streaming.
First air date: 1 October 1998
Frequency: 101 FM
Country: Pakistan, Faisalabad