Radio Junagadh Janvani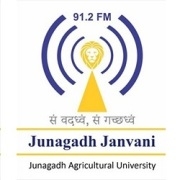 Audio stream for this station is not available in internet
Rating:
/5 - votes
Language: gujarati.
Genre: community.
Broadcast Timing:
8.00 AM - 9.00 PM (Original)
5.00 AM - 6.00 PM (Repeat)
Broadcast Hours: 13 hours
This is the first community radio station set up and run by an agricultural university inGujarat. The station reaches to about nine lakh people ofJunagadh city and 45 surrounding villages including about 1.2 lakh members ofthe farming and rural community.
The majorthrust areas ofthis station are agriculture, horticulture, animal husbandry, agri-engineering and allied fields. The programmes are woven with interviews of progressive farmers and scientists, field stories on agriculture, women empowerment, child development, music, education, history, science, culture, health,rural development, youth development, careers and employment, personality development, and food and nutrition. Various formats are being used to make the programmes effective and participative.
Cities of broadcasting
The official YouTube channel
First air date: 2015
Frequency: 91.2 FM
Country: India
State: Gujarat
City: Junagadh
Address:

Directorate of Extension Education Junagadh Agricultural University JUNAGADH – 362001

Email:

janvani@jau.in

Phone number:

0285-2671004, 09409413456, 099798 82630

(Virendra Bhatt)
Official website:

http://www.jau.in/index.php/extension-40/junagadh-janvani-91-2-fm
Main Programs
Programmes focus on various types of crops being cultivated in the field. Scientists of Junagadh Agricultural University and progressive farmers impart knowledge on modern methods of cultivation and animal rearing through interviews, field visit recording, agri songs and panel discussions.
Key Partners: Junagadh Agricultural University
Core Team: Dr. P.V. Patel, V.M. Bhatt and P.B. Thaker
CRMC Members:
Vice-Chancellor
Director of Extension Education
Director of Research
Registrar
Station In-charge
Members of Community
Advisory Committee
Community members and university staff.