Lakhanda radio
ලක්හඞ්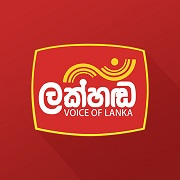 Language: Sinhalese.
Genre: indian music.
Lakhanda radio is an online station from Colombo (Sri Lanka). Broadcasting was opened in 15 November 1996, owned of Sri Lanka Broadcasting Corporation. Listen on the air news, discussion of current topics, music of different genres, interviews and sports programs. This radio focus its on current information about politics, economics, social issues, sports and other areas of life.
First air date: 15 November 1996
Frequency: 93.5/93.7 FM
Country: Sri Lanka, Colombo