Radio Luit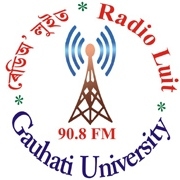 Audio stream for this station is not available in internet
Language: Assamese, Hindi, English, Bengali, Nepali.
Genre: community.
Broadcast Timing: 8 AM - 8 PM
Broadcast Hours: 12 hours
Format: Radio Luit produces programmes using various formats like talk shows, discussions, drama, magazine, features, phone-in interactive, folk and modern songs performed by the community
Most often theGauhatiUniversity community and people living around the campus are neglected by the big media houses. Today,the community radio station named afterthe mighty Luit endeavours to give voice to the aspirations of local people.
The overarching focus ofthe CRS is on the theme of 'discovering talents within the community and uals'. Some new initiatives related to disaster management, skill development and environmentbased issues have also been taken.
First air date: 2011
Frequency: 90.8 FM
Country: India, Assam, Guwahati
Frequencies
Radio Luit broadcasts in the following cities on FM or AM:
Contacts
Address:

GUIDOL BuildingGauhatiUniversity, Gopinath Bordoloi Nagar,Jalukbari,Guwahati, Kamrup (M), Assam - 781 014

Email: [email protected]
Phone number:

+91 8811092674

(Prof. Amit Choudhury, Station Director; BhaskarJyoti Acharjya, Programme Executive; Durlov Barman, Transmission In-charge)
Official website:

https://radioluit.gauhati.ac.in/home
Main Programs
Mukoli Sora and Quizzeria
Key Partners: Assam State Disaster Management Authority; Dr. Anamika Ray Memorial Trust; Krishi Vigyan Kendra, Kahikuchi, Guwahati, Assam; Gandharba Cultural Club, Baripara, Guwahati, Assam; and others.
Core Team:
Amit Choudhury
Bhaskar Jyoti Acharjya
Durlov
Barman
Ratna Das
Bhupen Deka
Pallabika Mahanta
Mridumoni Kakati
Ritupurna Choudhury
Dolly Deka
CRMC Members: Vice Chancellor, GauhatiUniversity; Director, GUIDOL, Gauhati University; Kandarpa Das; Abani Kr Bhagabati; Dr. Bhaskar Jyoti Borah; Archana Sharma; Upen Rabha Hakasam; Swarna Prabha Chainary and others.