Radio Macfast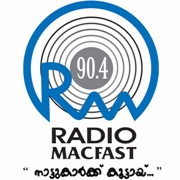 Language: Malayalam, Tamil, English, Hindi.
Genre: community.
Broadcast Timing: 5.45 AM - 12.00 PM Midnight
Broadcast Hours: 18 hours, 15 Minutes
Format: Radio dramas, documentaries, interviews, features on success stories, music classes, panel discussions, skits, storytelling,recitations, sparklers and live phone-ins.
Radio MACFAST is a community radio and social service arm of Mar Athanasios College for Advanced Studies, Thiruvalla (MACFAST). True to its punch line Nattukarkku Koottay (Community's Companion), the station follows the philosophy – 'to give a voice to the voiceless'.
Education, community health, agriculture, local culture, women empowerment, motivation, environment, awareness, science and rural development.
First air date: 2009
Bitrate: 128 Kbps
Frequency: 90.4 FM
Country: India, Kerala, Tiruvalla
Frequencies
Radio Macfast broadcasts in the following cities on FM or AM:
Main Programs
Pushpavani Arogyam
Arogya Vani
KrishiJalakam
Sthree Shakthi
Lalitha Sangeetha Padam
Penma
Mozhimuthu
Janahitham
Cyber Law and Security
Awareness(CLASA)
Niyama Padam.
Key Partners: Mar Athanasios College for Advanced Studies and various educational institutions.
Core Team:
Fr. Dr. Thomaskutty Pathinettil
V.George Mathew
Sumesh Kumar K. S.
Jerin Daniel
V. Praveen
Reshma M.J.
Reshma Raghavan
Norlene Ann Varghese