Radio Malayalam 98.6 FM
The First Malayalam Station in QATAR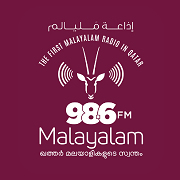 Language: Malayalam.
Genre: indian music, news.
Malayalam FM on frequency 98.6 first local broadcasting from Qatar. Listen on the air positive music, in addition to humor and useful information and much more, while maintaiing a level of ethical atmosphere. This radio station focus on malayalm songs and news and celebrity interviews. One of the key features is that it works 24 hours a day, 7 days a week without interruption. This means that listeners will always be able to enjoy their favorite music at any time, regardless of their location.
First air date: 31st October 2017
Frequency: 98,6 FM
Country: Qatar, Doha
Main RJs
Rj Parvathy
Rj Rijas
Rj Jibin
Rj Tushara
Rj Ratheesh
Rj Shifin
Rj Sooraj