Radio Mann Deshi Tarang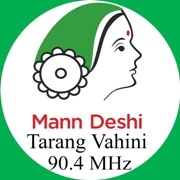 Audio stream for this station is not available in internet
Genre: community.
Broadcast Timing:
7.00 AM - 10.00 AM
12.30 PM - 2.30 PM
6.00 PM - 9.00 PM
Broadcast Hours: 8 hours
Format: Innovation in formats has been explored in programmes dealing with creating awareness about personal cleanness in adolescent girls. Programmes have also been introduced on eco-friendly initiatives forfarming.
Mann Deshi Foundation, Mhaswad, launched the Manndeshi Tarang Vahini for Manndeshi Community Radio for empowering women and highlighting Manndeshi culture and folk art.
The focus is on preserving the Manndeshi culture and creating awareness about water, literacy, organic farming, health and government schemes.
First air date: 2008
Frequency: 90.4 FM
Country: India, Maharashtra, Satara
Frequencies
Radio Mann Deshi Tarang broadcasts in the following cities on FM or AM:
The official YouTube channel
Main Programs
Malavarche Shivar(forfarmers)
GammatJammat (for children)
Sakhi Sajani (for women)
Tarunai (for young)
Radio Doctor
Pransh AmacheUttar Tumache.
Core Team:
Chetana Sinha
Vijay Sinha
Dr. ChetanGalande
NirmalaGonjari
Sachin Menkudale