Radio Mayur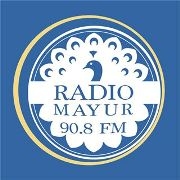 Audio stream for this station is not available in internet
Genre: community.
Broadcast Timing:
7.00 AM - 10.00 AM
2.00 PM - 5.00 PM
7.00 PM - 10.30 PM
Broadcast Hours: 9.30 hours
Format: The station connects with listeners through programmes by giving them an opportunity to sit and talk every week. Shortradio programmes on sanitation have been produced in a very creative way. Selected guests from the community coming from different background talk to listeners.
Mayur Kala Kendra, one ofthe oldest cultural organisations of Saran district, was started in 1979 by eminenttheatre personalities. The objective ofthis organisation has been to eradicate social evils with the help oftheatrical performances, art and cultural activities and streettheatre.
The organisation has started a new practice of inviting artists from across the country to local cultural festivals. After making its mark in the field of art and culture,the organisation started its journey in the field of community service through community radio in 2016.
Child education, sanitation, women development, agriculture, localregionaltalent promotion, and conservation ofregionaltraditional artforms and music.
First air date: 2016
Frequency: 90.8 FM
Country: India, Bihar, Chhapra
Frequencies
Radio Mayur broadcasts in the following cities on FM or AM:
Contacts
Address:

Aarya Nagar, Imamganj, Chapra, Bihar - 841 301

Email: [email protected]
Phone number:

06152-242908, 08587036060

(Abhishek Arun)
Main Programs
Good Morning Chapra
DopharGupshup
Hello Chapra 908
Sunana Zaruri Hai
Aapan Boli – Aapan Baat
Good Morning Chapra – Women Special
Core Team:
Abhishek Arun (Chief Operating Officer)
Puniteshwar Punit
Sushant Singh ( Technical Head)
Subhash Chandra Shirvastava
Dr. Lal Babu Yadav
Balbir Singh
Gulati and Sanny Shashank.