Radio MGIRI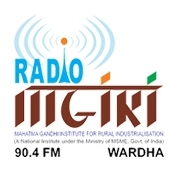 Audio stream for this station is not available in internet
Rating:
/5 - votes
Genre: community.
Frequency: 90.4 FM
Country: India
State: Maharashtra
Сity: Wardha
Address: Mahatma Gandhi Institute for Rural Industrialization. Maganwadi, Ramnagar Wardha. 442001
Official website: http://radiomgiri.org/
Email: radiomgiri90.4fm@gmail.com
Phone number: +91-9665041123
Language: english.
Cities of broadcasting
Listen to Radio MGIRI online in good quality. Broadcasting was opened in Wardha (India). At this station, for you, plays the best community content in free live streaming.