Radio MGIRI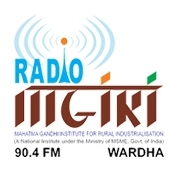 Audio stream for this station is not available in internet
Genre: community.
Broadcast Timing:
6.00 AM- 10.00 AM
1.00 PM - 5.00 PM
5.00 PM- 9.00 PM
Broadcast Hours: 12 hours
Format: Some ofthe innovations are reflected in the the programmes with the use of formats like interviews,talks, discussions, dramas, bhajans, folk songs and music.
MGIRI (Mahatma Gandhi Institute for Rural Industrialisation) is a national institute underthe Ministry of Micro, Small & Medium Enterprises (MSME), Government of India. Mahatma Gandhi Institute for Rural Industrialisation has been working with a vision to accelerate the process ofrural industrialisation in the country along the lines ofthe Gandhian vision of creating sustainable village economies by upgrading the products ofrural industry so thatthey gain wide acceptability in the local and global market. The radio station was established to promote rural entrepreneurship and village industries.
The thematic focus is on health awareness, legal literacy, rural entrepreneurship, village industries development, agriculture, health, sanitation, hygiene, women empowerment and education.
First air date: 2013
Frequency: 90.4 FM
Country: India, Maharashtra, Wardha
Frequencies
Radio MGIRI broadcasts in the following cities on FM or AM:
Contacts
Address:

Mahatma Gandhi Institute for Rural Industrialization, Maganwadi, Ramnagar, Wardha, Maharashtara - 442 001

Email: [email protected]
Phone number:

09665041123, 07152-252599

(Amol Deshmukh)
Main Programs
MazaGaon Maze Shivar
Swamini
Seva Bhav
Krushi Jagar
Shetkaryachi Yashogatha
Krushi Sandesh
Yuva Vishva
Balvihar
Core Team:
AmolU. Deshmukh
Nitin Lohkare
Shweta Kshirsagar
Suhas Ingale
VaishaliJoge
Nishant Ambhore.