Radio Active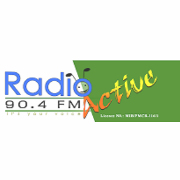 Audio stream for this station is not available in internet
Language: Hindi, English, Urdu.
Genre: community.
Broadcast Timing:
7.00 AM - 10.00 PM Fresh
10:01 PM - 6.59 AM Repeat
Broadcast Hours: 24 hours
Assam State Disaster Management Authority; Dr. Anamika Ray Memorial Trust; Krishi Vigyan Kendra, Kahikuchi, Guwahati, Assam; Gandharba Cultural Club, Baripara, Guwahati, Assam; and others.
Radio Active, Bhagalpur, aims to provide wholesome programmes for women, children and youth. The community radio station aims to entertain and enrich the lives of its listeners by promoting education, health, culture, languages, peace, harmony, agriculture and overall growth in society.
First air date: 2012
Frequency: 90.4 FM
Country: India, Bihar, Bhagalpur
Frequencies
Radio Active broadcasts in the following cities on FM or AM:
Contacts
Address:

IInd floor, Sumrit Mandal Complex, Subhash Chandra Bose Road, Tilkamanjhi, Bhagalpur, Bihar - 812 001

Email: [email protected]
Phone number:

+91 75490 00912

(Sandeep K Pandey)
Main Programs
Second Innings(show for senior citizens);
Naya JamanaNaya Course (information about new courses);
Active Library (about books, novels and writers);
and Mujhe Kuch Kehna Hai (sharing ideas and views on subjects
concerning the society as a whole).
Key Partners: Bhagalpur Municipal Corporation, UNICEF, and local market.
Core Team:
Sandeep Pandey
Imteyaz Khan
Subhash Pandey
Sudha
Jha
Amjad Khan
Prabhat Roy
Annu Jha
Nitish Thakur
Neha Rehman
CRMC Members: Sandeep Pandey, Imteyaz Khan, Prabhat Roy, Amjad Khan, Subhash Pandey and Sudha Jha.