RED FM Calgary
106.7-CKYR-FM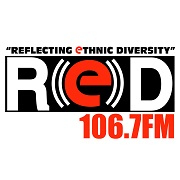 Language: Multilingual, Hindi, Punjabi, Urdu.
Genre: indian music, Bollywood, English Songs, news, talk.
RED FM Calgary (CKYR-FM) is a multilingual radio station, airs on the frequency of 106.7 in Calgary, Alberta, Canada. Owned by South Asian Broadcasting Corporation and was opened in 3 May 2013. CKYR-FM broadcast programming is primarily South Asian (Hindi and Punjabi).
First air date: 3 May 2013
Frequency: 106.7 FM
Country: Canada, Alberta, Calgary