Red FM Vancouver
89.1/93.1-CKYE-FM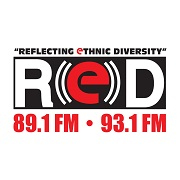 Language: Multilingual, Hindi, Punjabi, Urdu.
Genre: indian music, Bollywood, news, talk.
Red 93.1 FM is a commercial radio station from Vancouver (Canada). Listen on the air multicultural format and is owned by the South Asian Broadcasting Corporation. Broadcasting was opened in 21 december, 2005. CKYE-FM broadcasts programs on Punjabi, Hindi and Urdu and 14 other languages.
First air date: 21 december , 2005
Frequency: 89.1/93.1FM
Country: Canada, Ontario, Vancouver