Radio Sanjha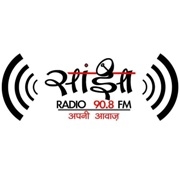 Audio stream for this station is not available in internet
Language: Hindi, Punjabi, English, Bhojpuri, Urdu.
Genre: community.
Broadcast Timing: Round the clock
Broadcast Hours: 24 hours
Format: The station has a unique programming strategy with more than 70 per cent community involvement with the help a content management committee. The station involves local administration to convey more specific information in public interest and manages a two-way radio communication platform between administration and community.
Sanjha Radio, set up in 2013, is committed to social welfare and to encourage the community in its overall growth. Sanjha Radio has become a voice ofthe voiceless and common platform for allto share their views and showcase theirtalent. The station is supported by an NGO, All India Samaj Sewa Kendra.
Water & sanitation including environmental sanitation, hygiene and health, training on vocational subjects like multi-media and broadcasting, and women empowerment.
First air date: 2013
Frequency: 90.8 FM
Country: India, Haryana, Yamunanagar
Frequencies
Radio Sanjha broadcasts in the following cities on FM or AM:
Contacts
Address:

B-VI, 1345, Modern Colony, Yamunanagar, Haryana - 135 001

Email: [email protected]
Phone number:

08901295709, 09315896709

(Manmohan Singh, Chairman)
Main Programs
Aao Jane Zara
Zindagi Na Milegi Dobara
Baat Pate Ki and Suno Sakhi
Key Partners:
Central and StateGovernment agencies
banks and financial institutions
private and civil hospitals
education institutes and local artists.
Core Team:
Manmohan Singh
Rahul Bhardwaj
Narender Vatish
Tanu Sharma
Sundar Mohan
Chetna and Gurpreet.
CRMC Members:
Manmohan Singh
Seema Sharma
Ramesh Madaan
Dr. Vivek Talwar
Indu Kapoor
Parveen Taneja.