Radio Sharda
Slogan: "Booziv ti khosh rooziv (Listen and be Happy)"

.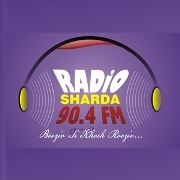 Rating:
/5 - votes
Genre: community, Bollywood, news.
Broadcast Timing: 7.00AM - 10.00 PM
Broadcast Hours: 15 hours
Format:
Programmes concerning the community are recorded atthe household level with an active participation of family members.
Radio Sharda was set up with the intent of promoting and preserving the language and culture of displaced Kashmiri Hindus. Besides entertainment, it helps the displaced people by promoting education, culture, women empowerment, entertainment and agriculture. The catch line is Booziv Te Khosh Rooziv.
The community radio station's thematic focus is to support younger generation for promotion of culture and language through educational programmes. Through these programmes the station instantly makes a friendly connection with its listeners.
First air date: 2011
Bitrate: 128 kbps
Frequency: 90.4 FM
Country: India, Jammu and Kashmir, Jammu
Frequencies
Radio Sharda broadcasts in the following cities:
Contacts
Address:

Near TRT Migrant Quarters, Lower Buta Nagar, Paloura,Jammu,Jammu & Kashmir - 181 121

Email:

radiosharda@yahoo.com

Phone number:

0191-2597806 / 2597806

(Ramesh Hangloo)
Official website:

http://radiosharda.com/
Main Programs
Aradhana
Waangij Voor
Mean Kashir
Manasbal
Khawat
Sangarmal
Bharat Darshan
Tohi Cha Pta
Kathan Kathan Manzz
Aaj PaghaTe Sonh Patkal
Brandh Keinh.
Key Partners:
Striving forlocal advertisements forfinancial stability.
Core Team:
Ramesh Hangloo
Vijay Koul
Anita Bhat
Roopalee Koul
Sarita Raina
Sujata Pahalwan
Manju Raina
Neelam Wali.
CRMC Members:
P. N. Shad
A. K. Naaz
AshokGawhar
J. N. Sagar
Rajni Bhat
Bharti Zaroo
Behari Kak
J. K. Raina.