Radio Sharda 90.4
Booziv ti khosh rooziv (Listen and be Happy)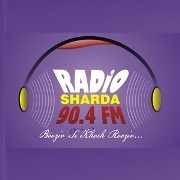 Language:
Genre: community, news, indian music.
Broadcast Timing: 7.00AM - 10.00 PM
Broadcast Hours: 15 hours
Radio Sharda 90.4 is an online station from Jammu (India). Broadcasting was opened in 2011. Listen to indian music and community content in quality 128 kbps in free live streaming.
First air date: 2011
Bitrate: 128 kbps
Frequency: 90.4 FM
Country: India, Jammu and Kashmir, Jammu
Frequencies
Radio Sharda broadcasts in the following cities on FM or AM:
Contacts
Address:

Near TRT Migrant Quarters, Lower Buta Nagar, Paloura,Jammu,Jammu & Kashmir - 181 121

Email: [email protected]
Phone number:

0191-2597806 / 2597806

(Ramesh Hangloo)
Main Programs
Waangij Voor
Khawat
Sangarmal
Bharat Darshan
Tohi Cha Pta
Kathan Kathan Manzz
Aaj PaghaTe Sonh Patkal
Brandh Keinh.