Shree FM
මා ළඟින්මය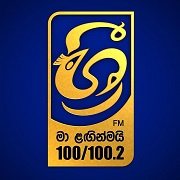 Language: Sinhalese.
Genre: indian music, pop.
Shree FM online radio station broadcasting from Sri Lanka on frequencies 100 FM and 100.2 FM. Owned by EAP Broadcasting Company. Founded in 1992 as FM99,they renamed as Shree FM in 1998. On the air you can listen to hits and new releases from famous musicians and performers from both the local and international music scene.
First air date: 1998
Frequency: 100/100.2FM.
Country: Sri Lanka , Colombo
Contacts
Address:

EAP Broadcasting Co. Ltd, Bellatrix Building, Orion City, Dr. Danister De Silva Mawatha, Colombo 09.

Email: [email protected]
Phone number:

0112 503 818

Official website:

http://shreefm.lk/