Suryan FM
Are your ears tuned in?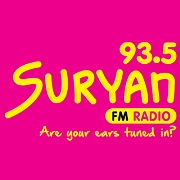 Audio stream for this station is not available in internet
Suryan FM 93.5 is a private radio station owned by the Indian media conglomerate Sun Group. Listen online to the best Tamil songs and hits of Bollywood, as well as various entertainment programs that will tell you about the Tamil traditions and culture of the people.
First air date: 2012
Frequency: 93.5 FM
Country: India, Tamil Nadu, Chennai
Frequencies
Suryan FM broadcasts in the following cities:
The official YouTube channel
Contacts
Address:

Sun TV Network Limited, 73, Murasoli Maran Towers, MRC Nagar, Chennai –600 028.

Email: [email protected]
Phone number:

+91 86789 35935 on WhatsApp

Official website:

http://www.suryanfm.in