Radio Talky
പാട്ടും പാടി കൂട്ടും കൂടി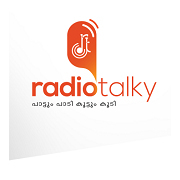 Language: Malayalam.
Genre: indian music, talk.
Radio Talky is an malayalam radio station from Vellayani (India). It's broadcasting was opened in 10th September 2020. On the air you can listen to tamil music. This radio is focused on a platform created for entertainment lovers to enjoy, discuss new tracks and explore different genres and styles presented by users and DJs from all over the world.
First air date: 10th September 2020
Country: India, Kerala, Vellayani
Main RJs
Rj Shameer
Rj Arun
Rj Vaishna
Rj Akhil
Rj Vishnupriya
Rj Priya Bala
Rj Sam
Rj Aami
Rj Kallu