Yuvanshankar Raja radio
Slogan: "Son of Ilayaraja"

.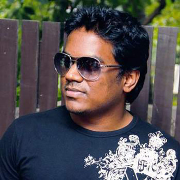 Rating:
/5 - votes
Language: Tamil.
Genre: pop, classic, rap Hip Hop.
Yuvanshankar Raja Radio is a station that has become famous thanks to a large selection of musical genres. This channel broadcasts the songs and soundtracks of Indian author and composer Yuvan Shankar Raja, born on 31 August, 1979. He became famous for his music for films in Tamil. He also became an author who introduced hip-hop to the Indian film industry and began the "era of remixes". Listen live to unique tunes in good quality.
Bitrate: 128 Kbps
Country: India, Tamil Nadu, Chennai