Radio Mirchi 98.3 FM in Patna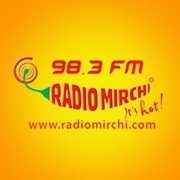 Rating:
/5 - votes
Language: International, Telugu, Kannada, Punjabi, Hindi, Tamil, Gujarati, Malayalam, Multilingual, Bengali.
Genre: indian music, Bollywood.
Date: 2001
Frequency: 98.3 FM
Bitrate: 24 Kbps
Country: India
State: Bihar
City: Patna
Address:

ENIL, Radio Mirchi, Matulya Centre, 4th floor, Senapati Bapat Marg, Lower Parel (W), Mumbai 400013

Email:

arindam.mondal@timesgroup.com

Phone Number:

022 - 66620600
Slogan: Mirchi FM it's hot!
Main Programs
Mirchi Murga
Edge
Purani Jeans
Main RJs
RJ Sayema
RJ Jeeturaaj
RJ Suren
RJ Naved
Listen online to Radio Mirchi 98.3 FM in Patna (Bihar) in quality 24 Kbps. Broadcasting was opened in Mumbai (India) in 2001. At this station, for you, plays the best indian music, Bollywood content in free live streaming.
Radio Mirchi online
All comments