Radio Mirchi 98.3 FM
Mirchi FM it's hot!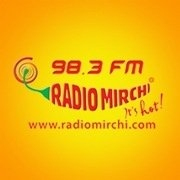 Language: Hindi, Punjabi, Telugu, Malayalam, Tamil, Kannada, Bengali, Gujarati, Multilingual, International, Marathi.
Genre: Bollywood, indian music.
Radio Mirchi is the India's leading nationwide private FM radio station. It was owned by Entertainment Network India Limited (ENIL). The most popular Bollywood music and world hits in English are broadcasted live. The radio station is known for its music charts Mirchi Top 20 and Angrezy Top 20. Especially popular programs are Murga, Meethi Mirchi, Tech Makhni. The channel began its work in 2001 in Indore - Andra Pradesh. Today the station broadcasts in 63 cities of India and covers more than half of the country's audience of radio listeners. Also, the radio broadcasts in UAE and USA.
First air date: 2001
Bitrate: 36 Kbps
Frequency: 98.3 FM
Country: India, Maharashtra, Mumbai
Contacts
Address:

ENIL, Radio Mirchi, Matulya Centre, 4th floor, Senapati Bapat Marg, Lower Parel (W), Mumbai 400013

Email: [email protected]
Phone number:

022 - 66620600

Official website:

https://mirchi.in/
Main Programs
Mirchi Murga
Edge
Purani Jeans
Main RJs
RJ Sayema
RJ Jeeturaaj
RJ Suren
RJ Naved